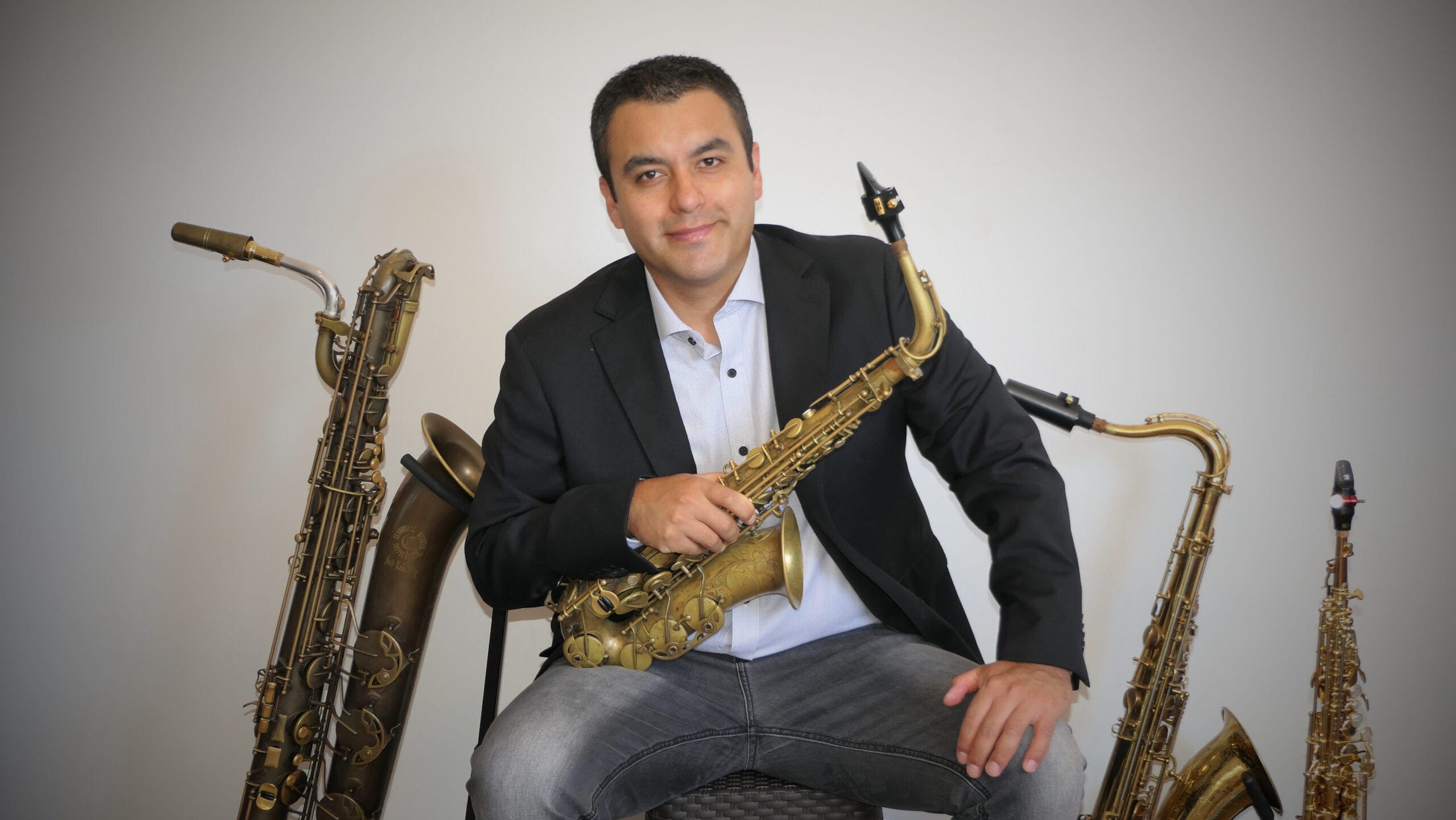 Artist's Favorite Rousseau Mouthpieces
Biography:
"Throughout my career I have always looked for a personal sound, which gives me the freedom to go through different styles, without limiting myself to a 100% typical classic sound in order to find my own voice and expression. In my work, daily I am making music in various formats, chamber music, soloist, even a great Symphonic Band, where you need more projection to lead or play a 'solo'.
 "After playing with most of the typical brands, today I discovered Rousseau mouthpieces which have different designs, unique and all very interesting, which have managed to make me feel very comfortable in this journey. Thanks to them I have managed to extend my sound, without sacrificing the comfort and subtlety of the classical saxophone."
 "I have really enjoyed the models and I couldn't decide on one over the other. Today I play with all of them, they are all excellent. A resonant, round, and very sweet color, like that of the old saxophone masters. A precise attack, tuning, comfort and homogeneity throughout the register, many harmonics in the sound but keeping the darkness that I love. And the best thing is that they work very well with my reeds whether they are wood or synthetics. I think they are perfect for today's professional saxophonist as well as students, I don't think I need anything else."
Chilean saxophonist, arranger and composer Marcos Contreras trained in musical performance at the University of Chile with the saxophonist Miguel Villafruela. He holds a master's degree in musical composition for audiovisual media from the Humanismo Cristiano University and a diploma in composition and arrangement for jazz from the PROJAZZ institute. In addition he studied Jazz with the saxophonist Claudio Rubio. He has received numerous accolades such as first place in the Young Soloists of Chile contest in 2010, participating as a soloist with the Symphonic Orchestra of Chile and also as a semifinalist in contest "Pan American Saxophone in Mexico 2008". During his training he has taken master classes with international saxophonists such as Arno Bornkamp (Holland), Lynn Klock (USA), Sylvain Verger (France) and Marie Bernardier Charrier (France). His experience as a performer has led him to participate in various projects of popular, jazz and classical music, participating in symphony orchestras, chamber groups, popular music and Big Band. His compositions and arrangements have been premiered by prominent national musicians, highlighting works for chamber music, saxophone quartets and symphonic band. Today he is the first saxophone of the Symphonic Band of the Policia de Investigaciones de Chile (PDI) and Big Band PDI.
En Español:-
Saxofonista, arreglador y compositor chileno formado como interprete musical en la Universidad de Chile con el saxofonista Miguel Villafruela. Posee una maestría en composición musical para medios audiovisuales en la Universidad de Humanismo Cristiano y un diploma en composición y arreglos para música jazz en el instituto PROJAZZ.  Además de realizar estudios de Jazz con el saxofonista Claudio Rubio. Ha recibido premios como el primer lugar en el concurso de "Jóvenes Solistas de Chile" en el año 2010, participando como solista junto a la Orquesta Sinfónica de Chile. Semifinalista en concurso "Panamericano de Saxofón en México 2008". Durante su formación ha tomado clases magistrales con saxofonistas internacionales como Arno Bornkamp (Holanda), Lynn Klock (USA), Sylvain Verger (Francia) Marie Bernardier Charrier (Francia). Su experiencia como interprete lo a llevado a participar en diversos proyectos de musica popular, jazz y clasico, participando en orquestas sinfonicas, agrupaciones de camara, musica popular y Big Band. Sus composiciones y arreglos han sido estrenados por destacados musicos nacionales, destacando obras para musica de camara, cuartetos de saxofones y banda sinfónica. Hoy es el primer saxofón de la Banda Sinfonica de la Policia de Investigaciones de Chile (PDI) y Big Band PDI.
"A lo largo de mi carrera siempre he buscado un sonido personal, que logre darme la libertad de transitar por diversos estilos, sin limitarme a un sonido 100% clasico para asi encontrar mi propia voz y expresión. En mi trabajo, diariamente estoy haciendo musica en diversos formatos, musica de camara, solista, hasta una gran Banda Sinfonica, donde necesitas mayor proyeccion para liderar o tocar un "solo".
Luego de jugar con la mayoria de las marcas tipicas, hoy he descubierto a E.Rousseau mouthpieces quienes tienen diversos diseños, unicos y todos muy interesantes, los que han logrado hacerme sentir muy comodo en este transitar. Gracias a ellos he logrado extender mi sonido, sin sacrificar la comodidad y la sutileza del saxofon clasico"
"He disfrutado mucho los modelos y no logré decidirme por uno por sobre otro. Hoy juego con todas, son todas excelentes. Un color resonante, redondo, y muy dulce, como el de los antiguos maestros del saxofon. Un ataque preciso, afinación, comodidad y homogeneidad en todo el registro, muchos armonicos en el sonido pero manteniendo la obscuridad que me encanta. Y lo mejor es que funcionan muy bien con mis cañas ya sean de madera o sinteticas. Creo que son perfectas para el saxofonista profesional actual asi como para estudiantes, no creo necesitar nada mas."